21st Amendment Brewery's monthly beer school this month was a day-long bus trip from San Francisco north to Cloverdale and back again, with several stops at area breweries in between.
The late Shaun O'Sullivan, 21st Amendment's brewmaster, in front of the 21-A beer school bus.
By late, I mean he was an hour late, keeping a bus-load of people waiting while he slept in Sunday morning. Of course we continued drinking at the brewpub until he finally showed.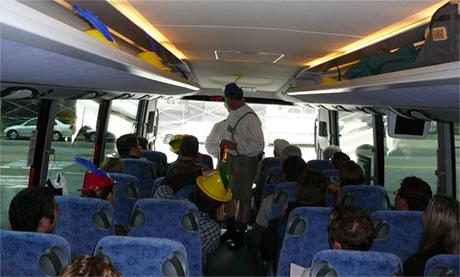 The theme of this month's beer school was Oktoberfest and our hosts were both in lederhosen. As we left San Francisco, co-founder Nico Freccia gave a talk on the history of Oktoberfest and marzen beers.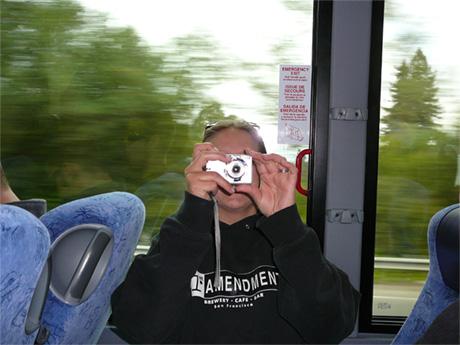 As the bus sped to our first destination, I took pictures, this one of Adrian taking my picture.
My neighbors across the aisle, newlyweds Rodger and Claudia Davis (Rodger is head brewer at Drake's and Claudia works at 2st Amendment.
Our first stop was Bear Republic's brewpub in Healdsburg where we had lunch and a little tour.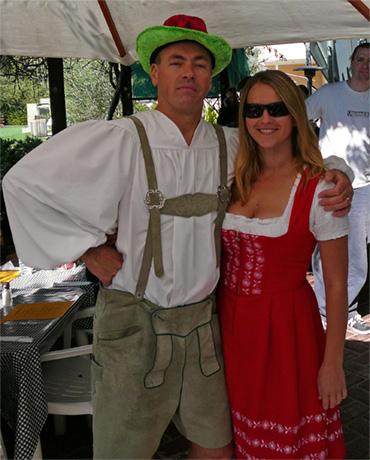 Beer School's Professor Nico with Daniela from The Brewing Network.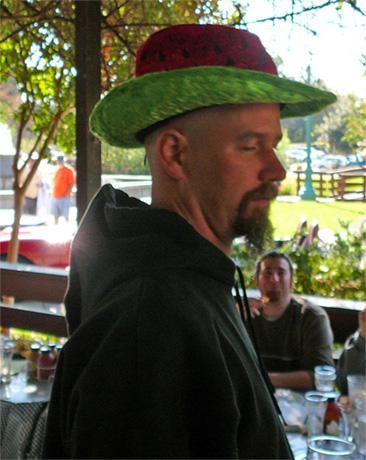 Rodger Davis looking positively pimped in the watermelon hat.
Shaun O'Sullivan, small brewer of the year Rich Norgrove, and Rodger Davis.
Shaun O'Sullivan making faces, sandwiched between The Brewing Network's Justin Crossley and Daniela.
Getting the kiss-off.
See the rest of the bus trip in Part 2.