After our historical walk through Philadelphia, we went to a decidedly more modern destination: Triumph Brewing's Philadelphia brewpub location.
Which is located at 117 Chestnut Street. Notice the small framed painting of malt to the left of the door.
And hops on the right, below the 117.
A nice contrast to our colonial morning, the decor at Triumph was decidedly more modern.
With burlap wall hangings with the Triumph logo.
Brewpub manager Crissy Dziena gave us a tour of the brewing area.
Which bent around on the second floor of the brewpub.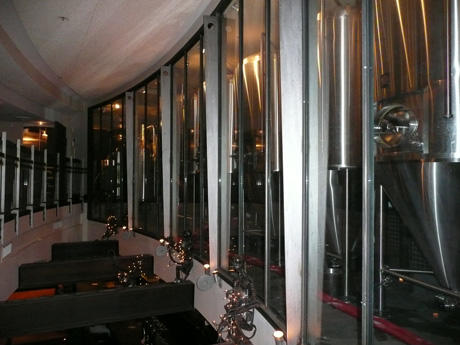 And was behind glass from the restaurant area. Notice the open area that lads to the main floor and bar below.
Whoch looks like this from the seating area.
And looking down on the bar from above.
From the second bar on the upper floor, Crissy Dziena sampled us on Triumph's many beers. Their Kellerbier was quite nice but I think my favorite was probably the Nuit de Folie, a strong ale of some kind. The Schwarzbier was only lightly smoked and the Imperial Stout had some nice flavor, too.
The Triumph logo on the wall from the window of the second floor.
Where across the street is another great Philadelphia Belgian Bar, Eulogy.