Sunday was the 19th Anniversary Party for the Celebrator Beer News. It was held at Trumer Brauerei in Berkeley, California from 4 to 8 p.m. There was a really good turnout for the party and a lot of friends and colleagues were there, which was great fun. Also, there was some terrific beer from twenty breweries, some terrific food from brewer Jeremy Sowers Emergency BBQ and three bands.
Greg Koch, co-owner of Stone Brewing, and Greg's girlfriend Susan, presented Celebrator publisher Tom Dalldorf with a montage poster of Stone Brewing moments in the Celebrator. (If you look very closely, that's me in a red shirt at the bottom left-hand corner holding a bottle of Stone beer.)
A dixieland band, Zenith, played some killer tunes as people entered the party.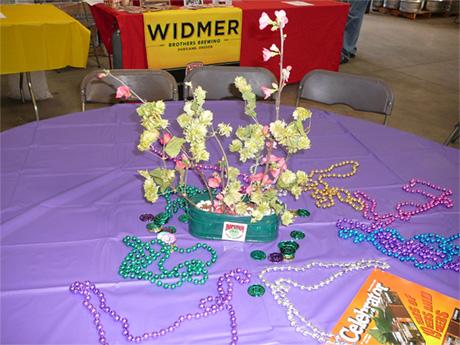 The theme was Mardi Gras again this year. Hop Union created these cool centerpieces for all of the tables.
Marc Cohn, Roger Lind, Chuck Fross from Bay Area Distributing, and Josh Charlton at the beginning of the party.
A random group at the party (I was standing behind one of their friends snapping a photo of them so I took one, too).
The Zenith Dixieland Band played the first set at the party.
To a packed house.
From the balcony. Clockwise from bottom left: Alan Shapiro, Susan, Greg Koch, a Trumer employee, Jamie Jurado, Pete Slosberg and Virginia MacLean.
Some party-goers took the Mardi Gras theme to extremes.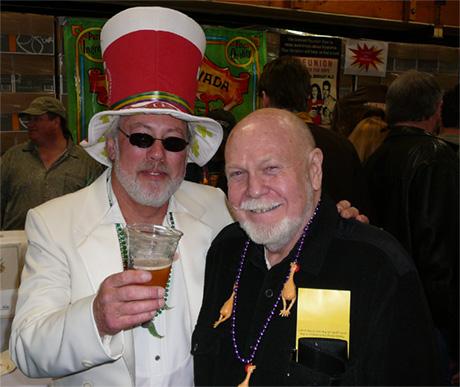 Party host Tom Dalldorf with Portland beer writer Fred Eckhardt.
Rob Widmer of Widmer Brothers Brewing, pouring his '07 Pale Ale.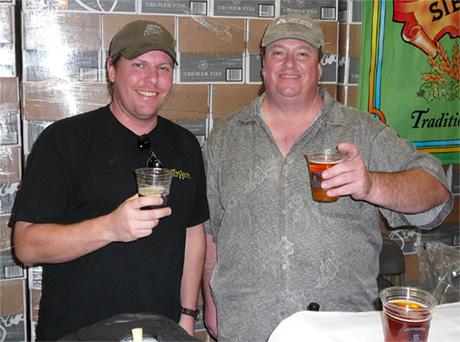 Steve, from Fire House Brewery, and Peter, from the Tied House.
Dan Del Grande, from Bison Brewing, brewed the new Reunion Beer, a charity for Multiple Myeloma (a type of bone cancer) by former Pete's Wicked Ale employees Pete Slosberg, Virginia MacLean and Alan Shapiro.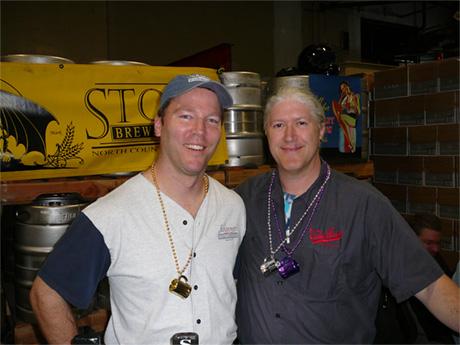 Craig Cauwels, from Schooner's and Steve Altimari, from Valley Brewing. Steve is doing the next beer dinner at the Cathedral Hill Hotel on April 27.
The second band up was the Rolling Boil Blues Band, an industry-staffed band fronted by Celebrator publisher Tom Dalldorf.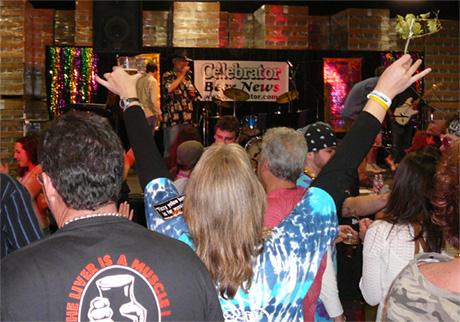 They got the crowd up on their feet.
And dancing.
The Rolling Boil after the gig.
The view from the stage.
Ed Ledger, from the great beer store in Berkeley, Ledger's Liquors, and Ed Chainey, from Anderson Valley Brewing.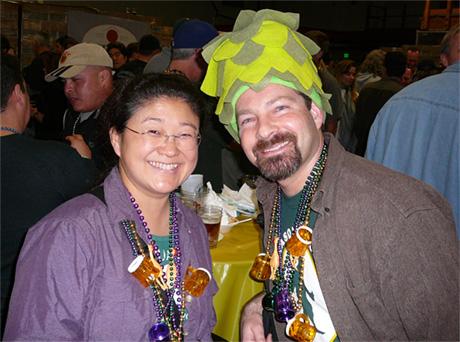 Yuko and Quentin Falconer, founders of the Glen Hay Falconer Foundation.
A perky Kathryn with Judy Ashowrth and Melissa Myers, from Drake's Brewing.
The beer chef Bruce Paton with his new bride.
Last on the stage was the Hysters, a band made up of employees from Anchor Brewery.
Which got the crowd dancing again.
Nico Freccia, co-owner of 21st Amendment, with one of his employees who proudly announced she'd been drinking since 11 a.m.
Cornelia Corey and Ray McCoy in for the party from North Carolina.
At the end of the party, Stone's Greg Koch kissed every guest goodbye, starting with Arne Johnson, from Marin Brewing.