The Boonville Brewery wrecking ball. I start with this photo because Natalie Cilurzo wore an orange bandana, which a friend had told her was "the color of insanity." And it was an insane festival this year.
Jeff Bagby, from Pizza Port Carlsbad, in mid-toss, playing washoes at the campsite.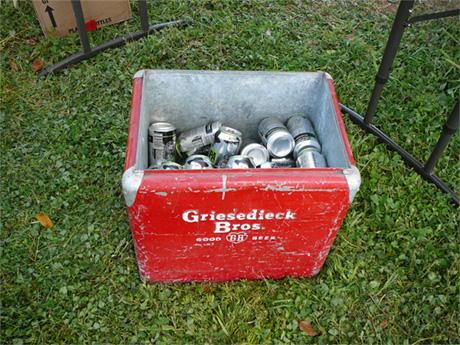 An antique cooler filled with 21st Amendment's IPA, breakfast of champions.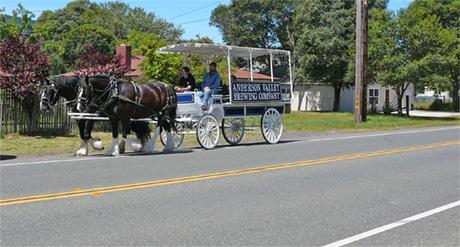 The Anderson Valley horse-drawn coach transported VIPs from the brewery to the festival.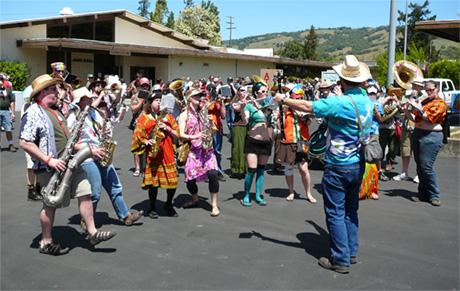 During the opening of the festival, we were serenaded by the traditional Humboldt Firkin Tappers. Below is a video of the band playing for the crowd as they arrive at the festival.
Anderson Valley Brewery owner Ken Allen dressed to the fives for Cinco de Mayo.
The first band on stage was Tom Dalldorf's Rolling Boil Blues Band.
The band poses after the show.
The Mexican theme was everywhere.
Festival-goers raise a toast.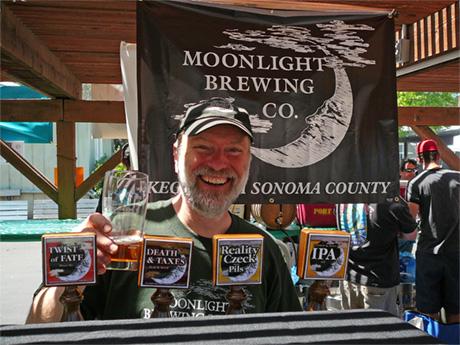 Brian Hunt from Moonlight Brewing.
Justine mans the 21A booth.
Adrienne, in her watermelon wheat hat, and Motor, who podcasts at Beer School.
Co-owners of 21A, Nico Freccia and Shaun O'Sullivan, with yours truly.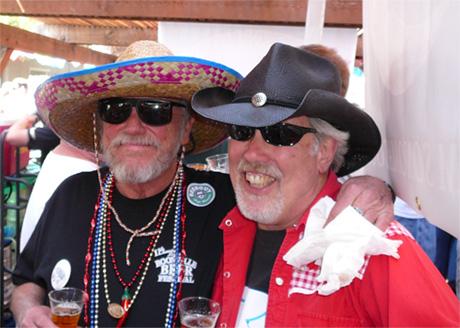 Anderson Valley owner Ken Allen and Celebrator publisher Tom Dalldorf.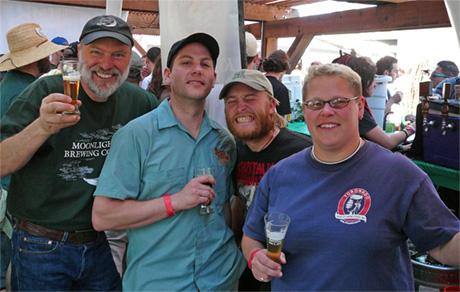 Brian Hunt from Moonlight Brewing, Aron Derosey from Beach Chalet , Jeff Barkley (also from Moonlight) and Melissa Myers from Drake's.
Ken Allen, his friend, Shaun O'Sullivan and Melissa, who's Matt Brynildson's real girlfriend (inside joke).
Vinnie Cilurzo does a celebrity endorsement of 21st Amendment's IPA in a can. Watch the commercial below.
Vinnie pouring a giant bottle of Russian River Damnation to a throng of waiting — and thirsty — people.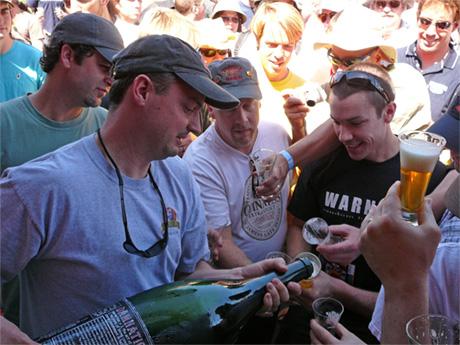 If he was able to fill everyone's glass who wanted some, it would have been a miracle.
North Coast's assistant brewer, who was responsible for the Old Rasputin X Imperial Stout , which was aged in old bourbon barrels for at least nine months, along with Ruby and Tom Dalldorf.
Adrienne, Matt Brynildson from Firestone Walker and Claudia, from 21st Amendment.
Behind the chaos.
Above Crazy Jack, from the Brewing Network, someone was forever blowing bubbles.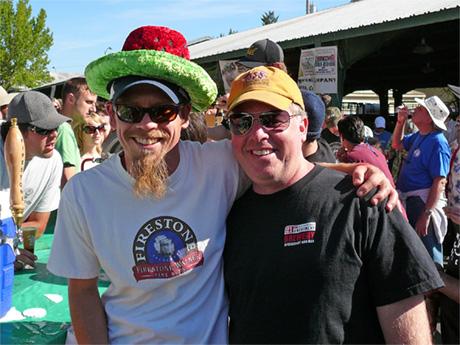 In another bit of shameless promotion, Shaun O'Sullivan from 21st Amendment gets Matt Brynildson to wear the watermelon wheat pimp hat.
Claudia, Yuseff Cherney, from Ballast Point, Jeff Bagby, from Pizza Port Carlsbad, and his assistant brewer.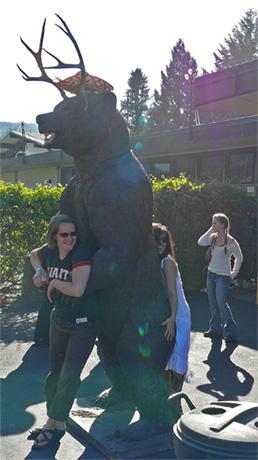 At the end of the festival, some people exiting were doing unspeakable things to the Boonville Bear. Why? Beats me.
The crew from Stumptown Brewing, including owner Peter Hackett at left, threatening a human sacrifice to the god of pallet bonfires.
The pallet bonfire, an after-fest tradition. For more bonfire photos, including a close-up of a beer bottle melting, visit the bonfire gallery.