On the first day of Summer, June 21, the Beer Chef will set sail for uncharted waters with a beer dinner featuring the beers of Craig Cauwels from Schooner's Brewery of Antioch, California. It will be a three-course dinner and the cost is $70 per person. It will be held at the Cathedral Hill Hotel on Friday, June 21, 2008, beginning with a reception at 6:30 p.m. Call 415.674.3406 for reservations by June 12. I'll see you there.
The Menu:
Reception: 7:00 PM

Beer Chef's Hors D'Oeuvre

Beer: Schooners IPA and Belgian Wit

Dinner: 7:30 PM

First Course

Salad of Honey Crisp Farms Yellow Peaches, House Made Mozzarella, Opal Basil and Dried Cherry Vinaigrette

Beer: Schooners Vindecation

Second Course:

Brined Berkshire Pork Tenderloin with Potato Risotto and Espresso BBQ Sauce

Beer: Irish Stout on Nitro

Third Course:

Butterscotch Bread Pudding

Beer: 2007 Old Diablo Barleywine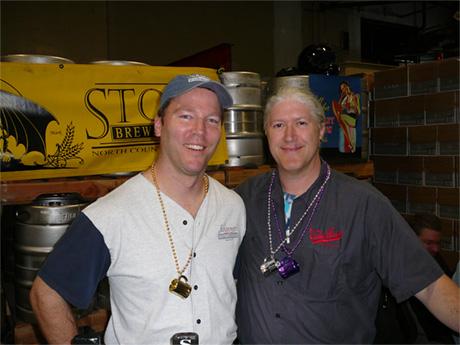 Schooner's brewer Craig Cauwels, with Steve Altimari, from Valley Brewing athe Celebrator's 18th anniversary party in 2007.

6.21
Dinner with the Brewmaster: Schooner's Brewery
Cathedral Hill Hotel, 1101 Van Ness Avenue, San Francisco, California
415.674.3406 [ website ]