Today is the feast day of St. Veronus. He is the patron saint of Lambeek & Belgian brewers. He was also known as Veronus van Lembeek, and he was a professor or a farmhand (accounts differ) who lived in Belgium in the 9th century.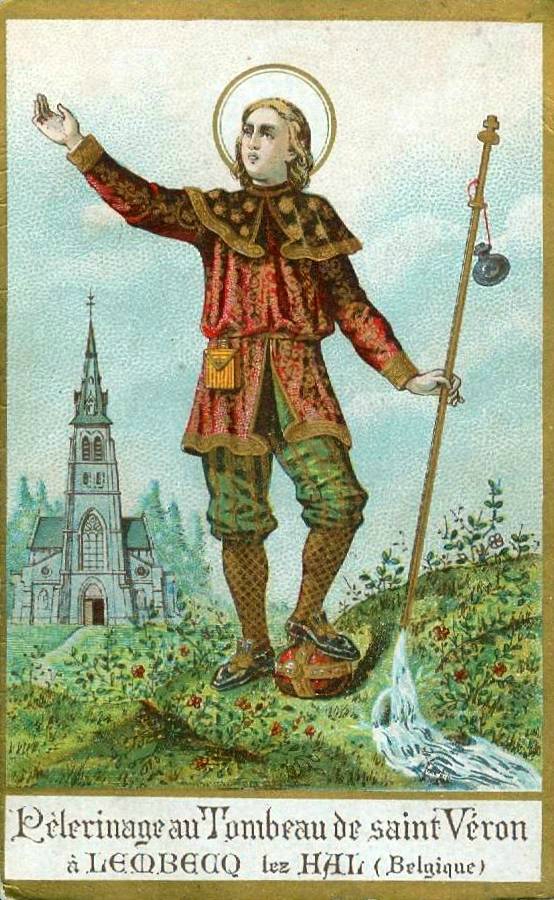 This short account of his life is from his Dutch Wikipedia page, translated by Google:
The life of Veronus is known from a hagiography written by Olbert van Gembloers around 1015-1020.

According to legend, Veronus was a great-grandson of Charlemagne. He left the parental home at the age of 15, because he did not want to get married, and ended up in Lembeek. Here he settled and served as a servant on a farmyard.

Once when he hammered a stick into the ground, water immediately bubbled from the ground. He told his twin sister, Saint Verona, where he would be buried after his death. A fallen tree would show her the way. After his death it happened as he had foreseen.
And this account is from Heiligen, a German website devoted to saints, also translated by Google.
Veronus was of fairly high descent. He is said to have been a cousin of Charles the Bald († 877). He left his parental home because he did not agree with the plans of his parents who liked to see him married and with an appropriate party. He himself walked around desiring to devote himself entirely to the service of God, and thus not to marry. On his departure, he informed his sister Verona (9th century; feast day, August 29) that in due time a sign would indicate the time and place of his death: a storm would arise and the trees would blow over and fall in towards the place where he is said to have died. After some wanderings, he ended up on a court farm in Lembeek. There he hired himself out as a farmhand. He lived a life of simplicity and service.

Legend tells how he drilled a well when he once planted his stick in the ground near the church. After all, according to the chronicles, he died "loved by God and by men."

Indeed, his death was accompanied by the signs he had announced to his sister at the time. So she left in the indicated direction and ended up in Brabant. The horses stopped in Berchem. There she was told that she had to continue to Lembeek. She found her brother's grave in the local church. The moment she entered the body emitted a wonderful scent. The tomb was opened and the dead was found completely intact.
Over the centuries, the memory of Veronus faded. He is said to have appeared to a priest on the spot to remind him of his memory. The priest began to work for the restoration of the worship of Veronus, and the latter expressed his agreement by delighting many pilgrims with answers to prayers and other miracles.
Modern Usages
There's a St. Veronus Cafe and Tap Room located in Peterborough, Ontario, Canada. They bill themselves as a Belgian restaurant and beer bar.