The BA hosted a Brewers Reception at Stubbs Bar-B-Que in downtown Austin Wednesday night before the official start to the annual Craft Brewers Conference. There was great food and beer from local breweries. Some highlights were the Rye Pale Ale from the Real Ale Brewery here in Austin and a nice barleywine, though I can't recall who made that one.
A local sign proclaims Austin as Beer Land, Texas.
The reception was held outdoors in this great open space with a stage on one end and bars and buffet tables ringing the area.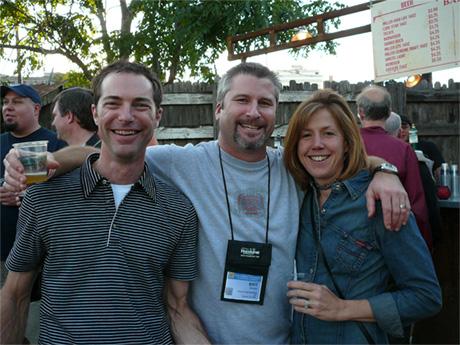 Brian Dunn (owner of Great Divide) and his new director of brewing operations, Brit Antrim, with Joanne Carilli from White Labs.

Steve Hindy (Brooklyn Brewery), Kim Jordan (New Belgium), Dave Keene (The Toronado in SF), Eddie Friedland (former owner of Philadelphia's Friedland Distributing) and Vinnie Cilurzo (Russian River).
Ralph Olson, the Big Cheese from HopUnion. If you look carefully in between his "Sponsor" and "Exhibitor" badge you can see his officially "the Big Cheese."
Horst Dornbusch and his wife, Ralph Olson and Jeannine Marois, who puts on the Le Mondial de la Bière.
Charlie Papazian leads a toast the memory of Linda Starck.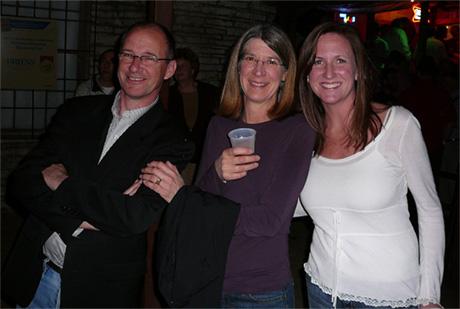 Daniel and Julie Bradford and Amy from All About Beer magazine.
The Rolling Boil Blues Band took the stage in the last hour of the reception.
Which got the crowd up and dancing.
Tom Dalldorf does his Pete Townsend impression.