The entrance to the hall this year featured five endcaps each with five years worth of photographic memories from the previous 25 years of GABF. The brewers and media entrance was greeted by a bigger-than-lifesize photo of me and Greg Koch from Stone Brewing. Apparently we were the face of 1997-2001. It was a little disconcerting seeing myself so large everytime I entered the festival and I didn't know my chins could get that big, but it was also very flattering and pretty cool.
Now … and then.
Bill Covaleski from Victory Brewing in Downington, Pennsylvania.
Ralph Olson from HopUnion with Daniel Del Grande and Peter from Bison Brewing in Berkeley, California. Bison won a Gold medal for their Organic Farmhouse Ale in the Belgian-Style Saison category.
A dedicated quintet of committed festival-goers wore their love of beer literally on their sleeve, along with the rest of their shirts.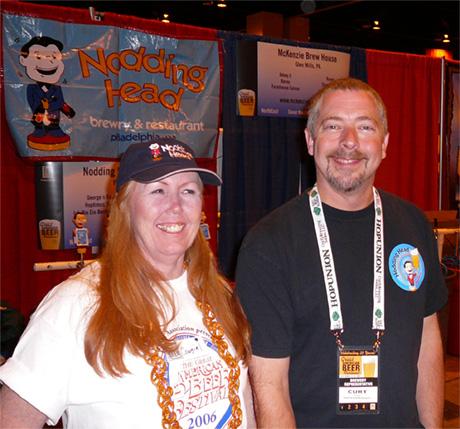 Curt Decker, co-owner and brewer of Nodding Head Brewing in Philadelphia, Pennsylvania.
Teri Fahrendorf of Steelhead Brewing. Steelhead of Irvine, California won a silver for U.C.I.P.A. in the Cellar or Unfiltered Beer category.
Dick Cantwell and Dave Buhler of Elysian Brewing in Seattle, Washington. Elysian won a Silver for their Dragonstooth Stout in the Other Strong Ale or Lager category.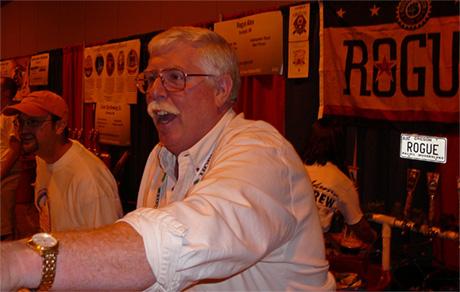 Jim Cline, GM of Rogue Ales.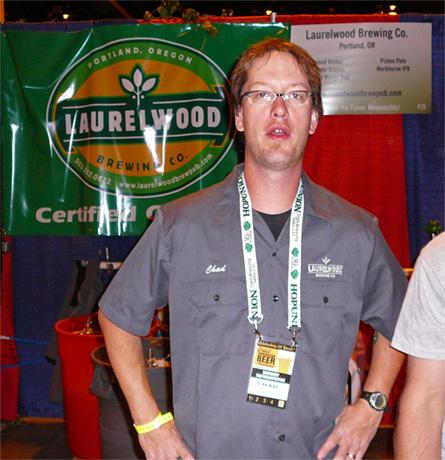 Chad Kennedy of Laurelwood Publichouse & Brewery in Portland, Oregon. Chad won a gold medal for his Organic Deranger in the Imperial or Double Red Ale category.
Arlan Arnsten of Stone Brewing in Escondido, California. Stone won a bronze medal for their Stone Pale Ale in the Extra Special Bitter or Strong Bitter category.
Mark Ruedrich and Tom Allen of North Coast Brewing in Fort Bragg, California.
The ever-ebullient Michael Ferguson, Director of Brewing Operations for BJ's Restaurant Brewery, which has eleven breweries (plus over 50 restaurants pouring their beer) in seven states. BJ's won a gold medal for Big Fish in the American-Style Strong Pale Ale, a Silver for Dim Wit in the Belgian- and French-Style Ale category and a Bronze for Lasto's Oatmeal Stout.
Tomme Arthur of Port Brewing and the The Lost Abbey in San Marcos, California opens a bottle of his excellent Belgian-style ales. Tomme won a bronze medal for Sharkbite Red Ale in the American-Style Amber/Red Ale category and a Silver for Shark Attack in the Imperial or Double Red Ale category.
Rich Norgrove of Bear Republic Brewing in Healdsburg, California. Rich won a bronze medal for Peter Brown Tribute Ale in the Brown Porter category, anotehr Bronze for XP Pale Ale in the American-Style Pale Ale category, a Silver for Racer 5 in the American-Style Strong Pale Ale category, another Silver for Apex Ale in the American-Style India Pale Ale category, and most importantly Rich was named Small Brewery Company and Small Brewing Company Brewer of the Year, a well-deserved honor. Congratulations, Rich!
Many breweries went all out with their costumes, like this one, Safari Grill & Brewing from Chanute, Kansas.
A self-portrait with Grant Johnston from Black Diamond Brewing of Concord, California.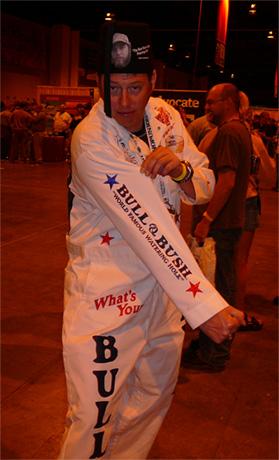 Erik Peterson, head party animal of the Bull & Bush Pub & Brewery in the Cherry Creek neighborhood of Denver, Colorado. Erik won a bronze medal for his 35th Anniversary Ale in the Belgian-Style White (or Wit) / Belgian Style Wheat category.
Joanne Carilli from White Labs and Susan from HopUnion at the after-party Rocktoberfest at Rock Bottom in Denver.