Today is the birthday of Gustav Hodel (April 30, 1875-July 3, 1966). Hodel was born in Emmendingen, Baden, Germany, the youngest of seven. His father, Christian Hodel, owned the local Hodel Brewery. One of his brother's emigrated to America and became a maltser in Nebraska, then another brother came and became a brewer, and eventually so did Gustav, who everybody called "Gus." He started in one brother's brewery in Galena, Illinois but struck out on his own and either owned or worked for a number of different breweries over the course of a 56-year career in beer. He retired in 1946 to Santa Cruz, California to be closer to his daughters, where he remained until his death in 1966.
Brewery Gems has a great account of Hodel's life, apparently with considerable help from Gus Hodel's grandson, William "Bill" Whetton. And given that it's the most complete source I could find, your best bet it to just go read it there.
This is an obituary for Hodel from the Santa Cruz Sentinel, July 5, 1966.
One of the breweries Hodel owned was the Lewistown Brewing Co., in Lewistown, Montana, which he acquired in 1912 and ran successfully until Prohibition, when in trying to survive got into a bit of trouble with the Federal government.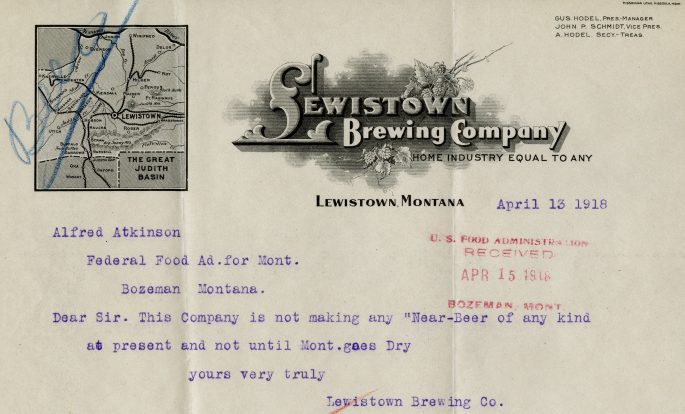 You can read all about those troubles at the National Archives, in a piece entitled "Run for the border: Beer Bootlegging during the Prohibition."