The 3rd annual beer festival put on by the San Francisco Brewers Guild, Brews on the Bay, was held today. Eight of the nine breweries in the city were pouring their beers, with only Anchor abstaining. The festival has an unusual location. It's held aboard the S.S. Jeremiah O'Brien, a World War Two-era Liberty Ship anchored at Pier 45 in Fisherman's Wharf. Despite a cold, windy and grey day in the city — imagine that — there was a pretty good turnout for the festival and the ship was packed. The beer was spread all over the deck of the ship and there was music and food on board, as well. It's a fun place for a festival and indeed everyone appeared to be enjoying themselves immensely.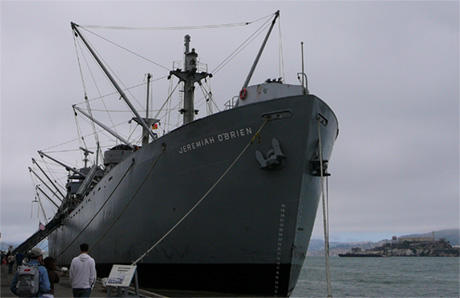 The Liberty Ship, S.S. Jeremiah O'Brien docked at Pier 45.
The festival on the starboard side.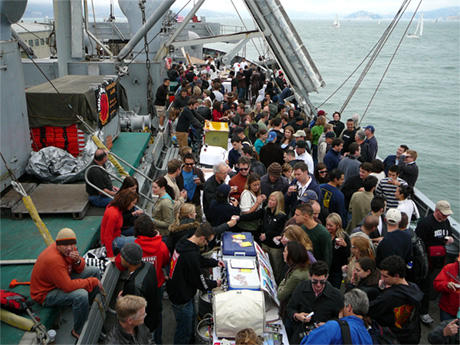 And on the port side, looking aft.
Already a tourist destination, a lot more people than is usual for a beer festival had cameras and were capturing friends aboard ship.
The Brewing Network's radio show did a live remote with several of the brewers during the festival.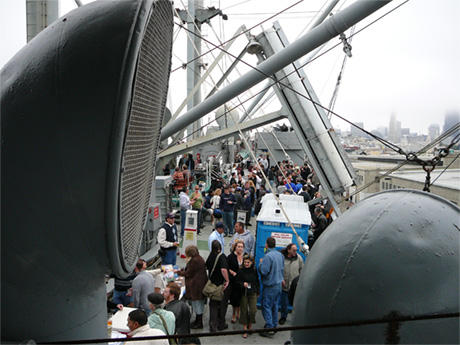 From the upper deck of the ship looking toward the bow.
Members of the San Francisco Brewers Guild pose with the ship as backdrop.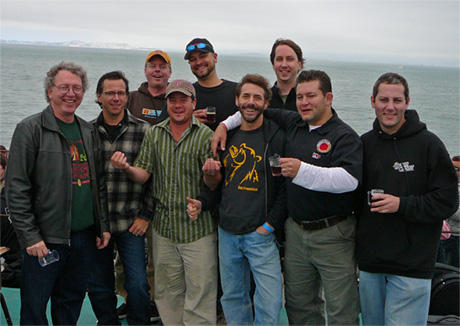 The brewers with the San Franciso Bay at their backs.