Friday evening there was a fun little event at the new City Beer store, San Francisco's first and only store selling nothing but great beer. Owner Craig Wathen (with a little help from Jen Garris) assembled several bay area holiday beers from Drake's, Marin Brewing and Schmaltz Brewing. Also several local brewers brought growlers of their beers, such as Triple Rock's Reindeer and Thirsty Bear's barleywine from 2004. The store is a small space, but there was a great turnout and the place was packed almost the whole time I was there. And did I mention they have a fantastic selection of some of the yummiest beers around. Please support the store as often as you can. As a beer community, we need to help one another. And we need a store like this.
The City Beer Christmas tree.
Drake's brewer Melissa Myers, with her father in town for a visit.
City Beer Store owner Craig Wathen at the taps.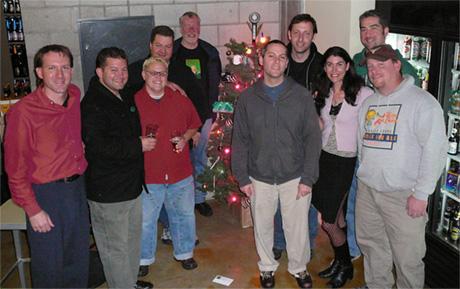 Craig with some of the Bay Area beer cognoscenti around the tree.

City Beer Store
1168 Folsom Street — at 7th
San Francisco, California
415.503.1033