Today one of the most fun festivals in the Bay Area took place, the Firkin Gravity Festival at the Triple Rock Brewery & Alehouse in Berkeley. This is the fourth year for this event and it's great to have an event like this that spreads awareness of these beers. There were two dozen firkin beers from around California. A firkin is a cask that's the size of a quarter keg, but measured in British volume, meaning it's 9 imperial gallons (which is roughly 10.81 U.S. gallons). All the beer was cask conditioned and dispensed using gravity taps rather than hand pumps.
There were some mighty fine real ales there today, not least of which was the one brewed by our host Christian Kazakoff, Triple Rock's Bad Monkey … No Banana. Some other stand-outs included a cask Pliny the Elder, Firestone-Walker's Bourbon Barrel Stout and Stone's Russian Imperial Stout. Iron Spring's Casey Jones Imperial IPA and Marin's IPA on cask were both also memorable, as was Grant Johnston's English-style beer. Farmhouse had a nice cask Porter and Lagunitas put last year's Gnarlywine to the wood.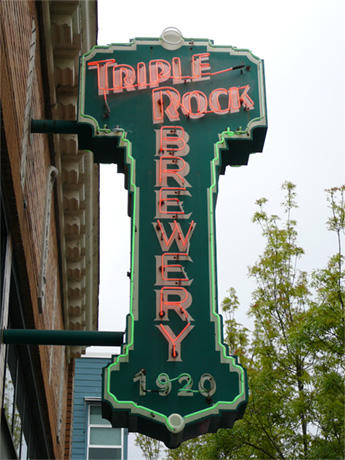 Outside Triple Rock in Berkeley.
Triple Rock's head brewer Christian Kazakoff.
Shane, Steve and Melissa, brewers one and all.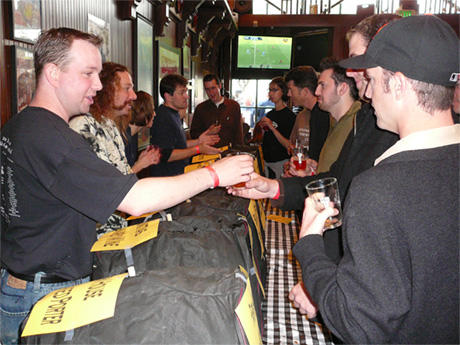 A row of firkins at the fest.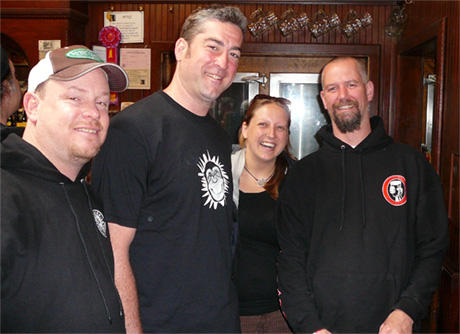 Arne Johnson (Marin Brewing), Christian Kazakoff (Triple Rock) and newlyweds Claudia and Rodger Davis (21st Amendment & Drake's)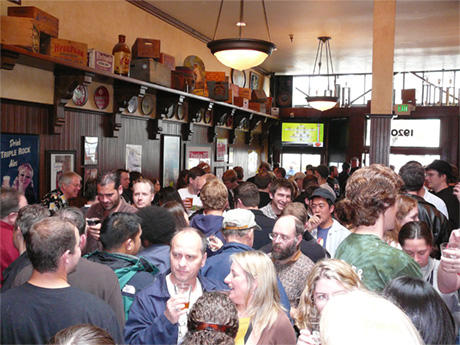 By early afternoon, the alehouse was truly packed. It was a great turnout and nice to see so many people supporting real ale.
Christian again with a trio from 21st Amendment.