Each year, Boston beer Co. has a brunch for the media Saturday morning before the connoisseur tasting and GABF awards ceremony. Jim Koch certainly knows that if you want to get the media to show up, brunch at a nice restaurant will do the trick as his event is usually very well-attended and this year was no exception. Several years ago, Boston Beer sponsored a contest for homebrewers and then made commercial versions of the winning beers and sold them in six-packs under the brand name "Longshot" for a limited period of time. It was a pretty fun idea and I recall they sold reasonably well, at least at Beverages & more, when I worked there as the beer buyer for the chain.
So this year part of the hoopla of the event was Jim announcing the two winners from the five regional finals whose beer would be commercially made by the Boson Beer Co. The winners were Donald Oliver of Hilmar, California, who brewed an Old Ale, and Bruce Stott of East Harwich, Massachusetts, whose winning entry was a Dortmunder Export. The two grand prize winners will have two bottles each available in a sampler six-pack under the Longshot brand. The rest of the regional winners can be found on the Longshot website.
The third beer in the Longshot six-pack sampler will be a homebrew from a Boston Beer employee and the three finalists' creations were available at the brunch for us to try and to vote for our favorite. There was a pale ale, a cherry stout and a boysenberry wheat. As aways, this was very enjoyable event.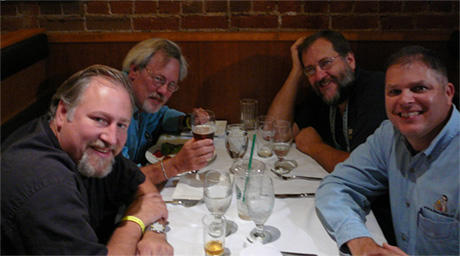 After stuffing ourselves, clockwise from bottom left: me, Tom Dalldorf, Lew Bryson and Banjo from Real Beer.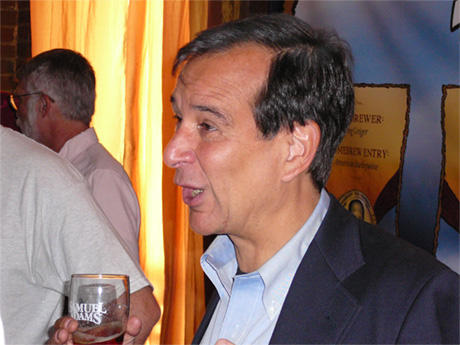 Jim Koch fields questions after the winners of the Longshot contest are announced.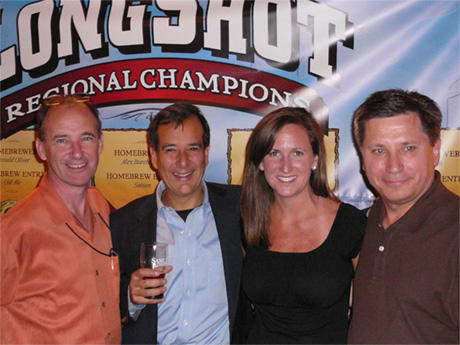 Daniel Bradford, of All About Beer, Jim Koch, Amy (also with All About Beer) and drinks writer Rick Lyke.
Jim Koch and me.