Last night at the Cathedral Hill Hotel, beer chef Bruce Paton put on yet another delicious "Dinner with the Brewmaster," this one with Tomme Arthur and the beers of Port Brewing and The Lost Abbey.
Tomme addresses the packed house, a record-breaking sell-out crowd.
Our first course, a Duck Pozole Terrine with Citrus Herb Salad paired with Lost Abbey Red Barn Ale, which is something of a cross between a Saison and a Bière de Garde. I've heard Tomme describe it as either and both, and, of course, the styles are quite close. Both are farmhouse styles, brewed slightly stronger, traditionally in March to last through the warm summer. But while Saisons tend to emphasize the hops and spices, Bière de Gardes are more focused on malt character. The Red Barn, on the hand, is a very malty beer that's spiced with ginger, orange peel, black pepper and grains of paradise. And as Tomme will be the first to tell you, he's not trying to imitate either style but rather was inspired by both to create this beer, which is an amazing marriage of both.
Dave Keene, from the Toronado, and Jeff Bagby, from Pizza Port's Carlsbad brewery.
Our dessert was an unbelievably rich Flourless Chocolate Cake with Chile Ancho served with Angel's Share Barrel Aged Barleywine, an indescribably good pairing. Bruce's desserts are usually quite tasty, but this one may have been his best ever.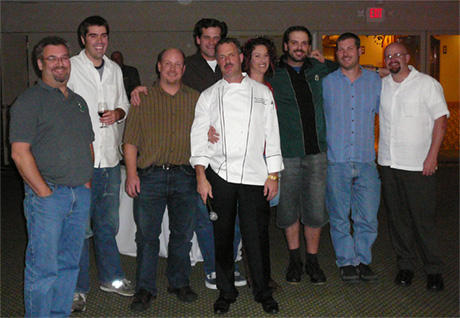 All the brewers in attendance at the dinner, with many of the usual suspects. One surprise, Alan Sprints (on the left), owner of Hair of the Dog in Portland, Oregon was in town for a wedding and joined us at the dinner.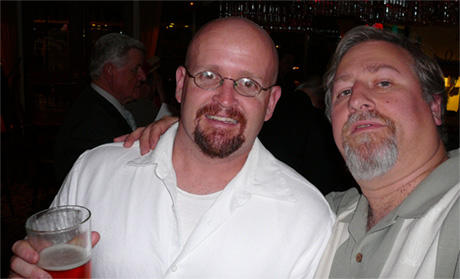 Tomme and me after dinner, relaxing in the bar with Blind Pig IPA.
The other beers of the evening included Cuvee de Tomme served with the soup course, which was a roasted corn soup with gulf prawns and heirloom tomato salsa and a shaved cornucopia of avocado. And the main course was a Duet of Lamb paired with Lost Abbey's Lost and Found Ale, a Trappist-style abbey ale brewed with a raisin puree.
The next beer dinner with the brewmaster will be November 10 and will feature Sam Calagione and the beers of Dogfish Head. Check out the Beer Chef for more details.