Saturday was the 11th annual Boonville Beer Festival, held as usual at the Mendocino Fair Grounds in Boonville, California. Over the last few years, this festival has really become one of the "must attend" fests of the year, and this time was no exception. I didn't hear the final attendance figures, but it must have been another record year. I did hear that despite ordering almost double the festival glasses as last year, they still ran out early and had to resort to dixie cups for late-comers. It was also Cinco de Mayo and the festival tried to celebrate the Mexican holiday, as well.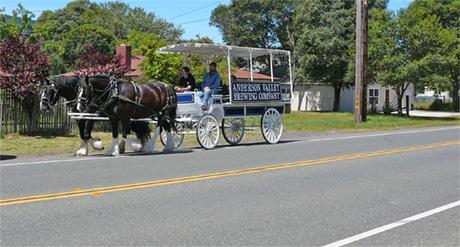 The Anderson Valley horse-drawn coach transported VIPs from the brewery to the festival.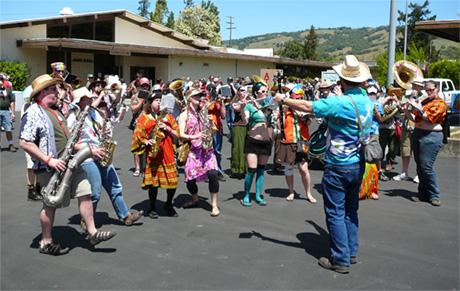 During the opening of the festival, we were serenaded by the traditional Humboldt Firkin Tappers. For a video of their performance, see the photo gallery.
Anderson Valley Brewery owner Ken Allen.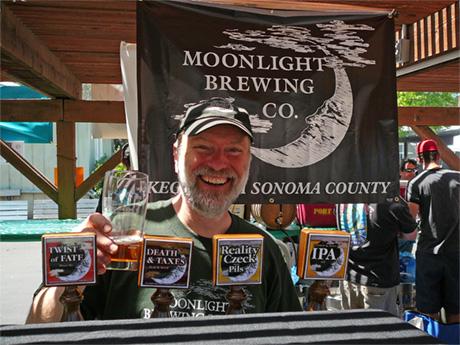 Brian Hunt from Moonlight Brewing.
Adrienne, in her watermelon wheat hat, and Motor, who podcasts at Beer School.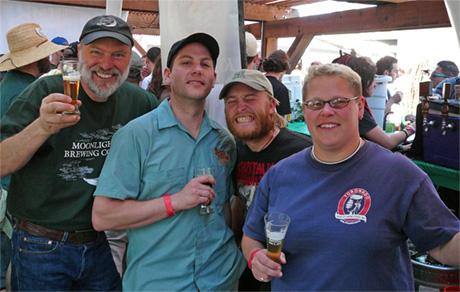 Brian Hunt from Moonlight Brewing, Aron Derosey from Beach Chalet , Jeff Barkley (also from Moonlight) and Melissa Myers from Drake's.
Vinnie Cilurzo does a celebrity endorsement of 21st Amendment's IPA in a can. Watch the commercial at the photo gallery.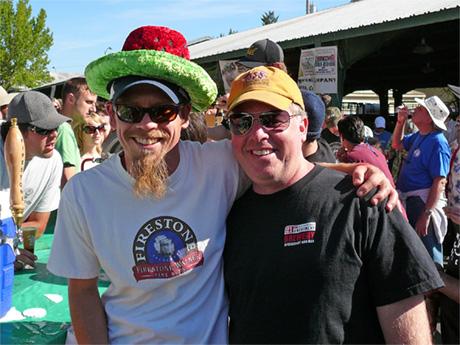 In another bit of shameless promotion, Shaun O'Sullivan from 21st Amendment gets Matt Brynildson, from Firestone Walker, to wear the watermelon wheat pimp hat.
Claudia, Yuseff Cherney, from Ballast Point, Jeff Bagby, from Pizza Port Carlsbad, and his assistant brewer.
For many more photos from the festival, visit the photo gallery. At the photo gallery there is even video of the Humboldt Firkin Tappers and Vinnie drinking beer from a can. And if you're a fire bug like me, there is also many photos of the bonfire, including what it looks like when a beer bottle melts.