My good friend, Brent Ainsworth — who sometimes writes for the Celebrator — is the Lifestyle Editor of the Marin I.J. and also writes a regular beer column, Brent on Beer. This week's column is about Moylan's adding fermenters to increase capacity 25% but the main story is the hiring of Denise Jones to help with the brewing while her new project in San Francisco has some legal wrangling and building issues worked out. Jones was the brewer at Third Street Aleworks for many years before leaving last year.
The new venture, Albion Castle Brewery & Caves, will be resurrecting a San Francisco brewery that dates from 1870. The Albion Brewery, also known as the Albion Ale and Porter Brewery, is a historic landmark located at India Basin Shoreline Park at Hunters Point. It closed in 1919 — yet another victim of Prohibition — but the caves underneath were still bottling spring water as last as the 1960s. The property was bought at auction by the Uzza Group on June 11, 2005. I hope the renovation comes together because it would be great to get back a piece of San Francisco brewing history like this.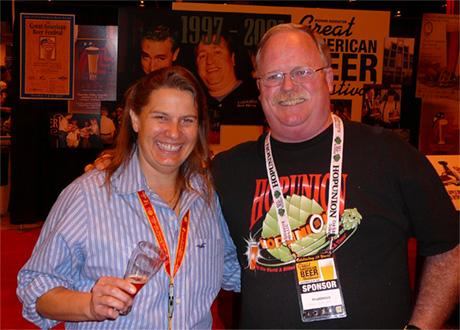 Denise Jones with Ralph Woodall of HopUnion at this year's GABF.
The abandoned Albion brewery in Hunter's Point. There are also additional photos and history at the Albion Castle website.