Saturday was the first-ever beer festival for wood-aged beers in the west. It was held at the Bistro in Hayward, California and they were pouring about 42 different beers who had in common only that they'd been aged on some type of wood barrel. At one time, of course, all beer was stored in wooden barrels and the cooper was just as important to the brewing of beer as anyone else. Eventually stainless steel overtook wood as the vessel of choice for beer, and indeed it has many advantages, one of which is that it doesn't impart anything to change the flavor of the beer. But that is precisely the point of the new wood-aged beers, and how they change the beer is what is so exciting about this trend. Brewers are learning through experimentation what works best and in general barrel-aged beers gain enormous complexity from their time in the wood, and what type of wood and/or what was in the barrel before the beer transforms the beer into a whole new experience. The most common used barrels once contained bourbon, scotch, wine, port or brandy. And these residual flavors, in addition to the wood itself, are also apparent in the finished beer.
The scene outside under the tent at the Barrel Aged Beer festival, with Rodger Davis from Drake's making faces at me.
Here's something you don't see everyday, Falstaff beer in cans.
The 21st Amendment Girls enjoy some yummy Tri-Tip sandwiches (oh, and Steve, too).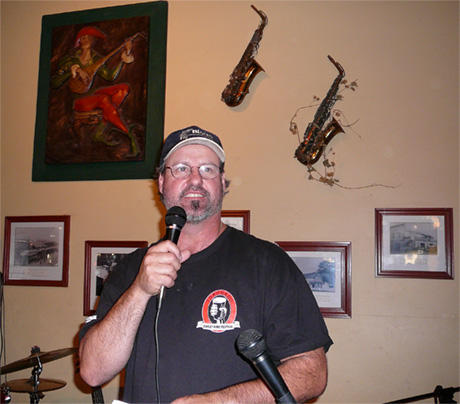 Bistro co-owner Vic Kralj announced the winners.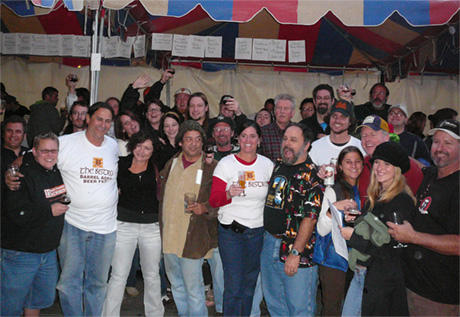 The first barrel aged fest was very well-attended, boding well for another one next year. The weather was decidedly cool for the Bay Area, which made it perfect for enjoying big, strong beers.
Our hosts, Bistro owners Cynthia and Vic Kralj.
Judging the four categories of beers kept us sequestered in the cellar for five grueling, delicious hours. Because all the beers have in common is being aged on wood, it was very difficult to choose among so many diverse, but deserving beers. There were very lively discussions every step of the way. Rumor has it one of the other judges wanted to "kick my ass" afterward, so I know I must be doing something right. What a blast!