Today is the birthday of Adolph Coors II, who was born Adolph Herman Joseph Coors, Jr. (January 12, 1884-June 28, 1970). He was the second president of Coors Brewing Co. and the son of founder Adolph Coors.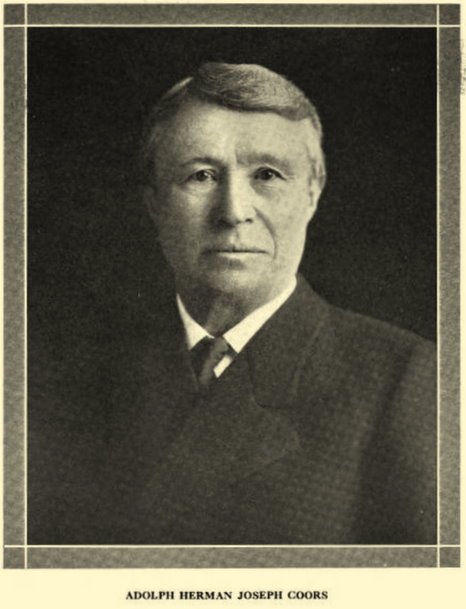 Adolph Coors II has a short Wikipedia page:
Coors was a graduate of Cornell University, where he was a member of the Sphinx Head Society and the Beta Delta chapter of Beta Theta Pi. He became an accomplished chemist who worked in prominent positions in the family's brewing and porcelain operations. He married Alice May Kistler (1885–1970) of Denver[3] on May 4, 1912, at the Kistler home by Rev. Van Arsdall. The couple had four children: Adolph Coors III (1915–1960) who was kidnapped and killed in 1960; William K. Coors (1916), Joseph Coors (1917–2003), and May Louise Coors (1923–2008).

Coors had his own brush with kidnapping in 1934. Paul Robert Lane, the former state Prohibition agent for Colorado, along with Clyde Culbertson, former investigator for the federal dry forces, along with two other men conspired to kidnap Adolph Jr. for a ransom of $50,000. The person delivering the money was to proceed to three different checkpoints to ensure no officers were tailing him and then split the money; Coors would be released somewhere around Colorado Springs. Denver police learned of the plot while working on an auto theft ring and Adolph Jr. volunteered to be kidnapped so the police could arrest the suspects. However, Lane was arrested on an auto theft charge and the conspiracy was foiled in advance.

Adolph Coors Jr. died in 1970 at the age of 86 years.
The Adolph Coors Company Board of Directors posing together at the dedication of the new headhouse at the brewery in Golden, Col., on April 16, 1952. Three men are standing and three men are seated on top of the headhouse. Standing in back left to right are brothers, William K. Coors, Joseph Coors, and Adolph Coors III. Seated in front left to right are brothers Grover Coors, Herman Coors, and Adolph Coors II (from the Golden History Museum).
A few years after his death in 1970, the Coors Foundation was established using "funds from the Adolph Coors, Jr. Trust. The foundation has awarded $135.3 million USD since 1975. It focuses its efforts generally within the state of Colorado. In 1993 it provided the endowment funds for the creation of the Castle Rock Foundation, which awards grants to causes throughout the United States.