Last year, my friend and author Maureen Ogle was having a book release party at Anchor Brewery in San Francisco and she asked me to help her put together the guest list since I lived here and she was in Iowa. When she sent me her preliminary list of guests I was very surprised to see Jack McAuliffe's name and address among them. It had been quite some time since anyone knew where McAuliffe was and I had heard he'd made it abundantly clear he wanted to keep it that way. I immediately asked about Jack, and Maureen told me that in the course of working on her book Ambitious Brew that she'd become good friends with him.
I mentioned all of this to Vinnie Cilurzo of Russian River Brewing a week or so later and he told me that Jim Koch was looking for McAuliffe because he wanted the Brewers Association to honor him and New Albion Brewery for his great contribution to the craft beer industry. At GABF I let Koch that Maureen knew how to reach McAuliffe and the rest, as they say, is history. At this year's Craft Brewers Conference, the Brewers Association Recognition Award was given to Jack McAuliffe, founder of New Albion Brewing Company in Sonoma, California.
From the press release:
The Brewers Association Recognition Award went to Jack McAuliffe, founder of New Albion Brewing Company. McAuliffe's inspiration, enthusiasm and support have contributed to the development of American craft beer movement.

Steve Bradt, Head Brewer at Free State Brewing Company and Brewers Association Board of Directors member says, "As founder of what author Maureen Ogle calls '…the most important failed brewery industry's history, the New Albion Brewing Co.' Jack McAuliffe epitomizes the kind of tough, ingenious, and fiercely independent men and women who have come since in the Craft Brewing world. In fact, probably find reason to present him with each of the awards presented today, not just this one."
Even though New Albion Brewery lasted only a few short years, it's influence on the future of microbreweries cannot be underestimated. We all owe Jack a debt of gratitude. Pick up Ambitious Brew for the most thorough account of that period of history. Unfortunately, McAuliffe could be coaxed out of his self-imposed isolation. Instead, his assistant brewer, Don Barkley, was on hand to accept the honor on his behalf. After New Albion closed in 1982, Barkley went on to success as Mendocino Brewing's brewer.
Bradt giving the Brewers Association Recognition Award to Don Barkley, who accepted it on behalf of Jack McAuliffe, founder of New Albion Brewing Company, who was unable to be present.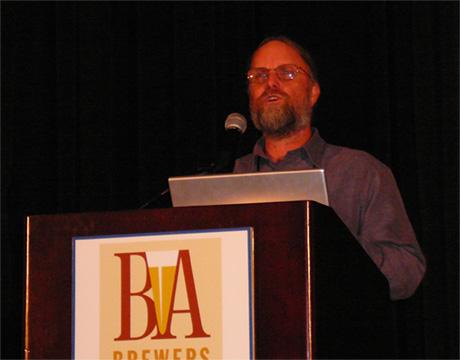 Don Barkley reminisced about working at New Albion and about McAuliffe. Maureen Ogle asked me take a picture since she wasn't able to be there either, and I decided I could make her feel more like she was actually there my shooting some video with my camera, so that's what I did and it's below here.