The latest beer dinner from beer chef Bruce Paton took place Friday evening at the Cathedral Hill Hotel in San Francisco. The delicious four-course dinner was paired with the beers of Dogfish Head Brewing from Milton, Delaware. Owner Sam Calagione was at the dinner to talk about his beers. Another great night with beer and food.
Sam Calagione tells the assembled crowd or over 80 people about his philosophy of brewing and about each of the five beers poured Friday night. There was no fish on the menu, however, and instead we enjoyed poached foie gras with caviar, duck parsnip nodle pho with charred ginger broth, and angus short ribs with lobster medallions.
Table-mates Vinnie and Natalie Cilurzo from Russian River Brewing.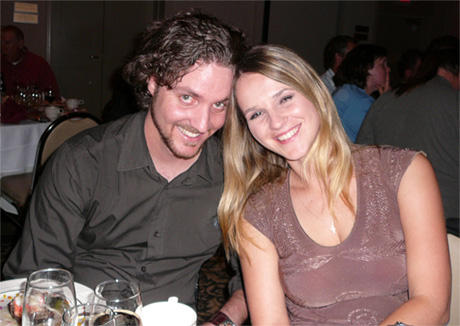 And Justin and Daniella from the Brewing Network.
The dessert was a delicious Ginger Scented Banana Custard with Citrus Caramel Sauce paired with Dogfish Head's newest historical beer, Chateau Jiahu, a beer based on a 9,000 beverage discovered in pottery jars found in the Neolithic villiage of Jiahu in Northern China. It was determined to be a mixed fermented beverage of rice, honey and fruit.
Brewers and beer people at the Dogfish Head dinner.
Sam Calagione and beer chef Bruce Paton, our hosts for the evening.
The next beer dinner should be sometime in January. Watch for more details here or on Bruce Paton's website, the Beer Chef.