Rob Tod, the owner/founder of Allagash Brewing of Portland, Maine, was in San Francisco Friday for a beer dinner at the Cathedral Hill Hotel. Bruce Paton, the Beer Chef, put on his usual spectacular fête and the meal and pairings worked magnificently. All of Allagash's beers are in a Belgian-style, though most are quite experimental. Rob Tod really worked the crowd and made a great impression both with his stories and his beer. Having missed Valley Brewing's dinner last month, it was great to enjoy another of Bruce's dinners. There were a number of friends there and a great time was had by one and all.
Rob Tod had the crowd in the palm in his hand talking about his beers.
The Main dish, cutlets of slow roasted lamb with fingerling potato risotto and bing cherry compote, which was paired with Allagash Inoculator. Inoculator is a "one-off" beer made almost by accident. It started with their triple, aged in bourbon barrels with cherries from their local market added. The yeast they used was from Rodenbach and helped create a delightful 9.5% beer.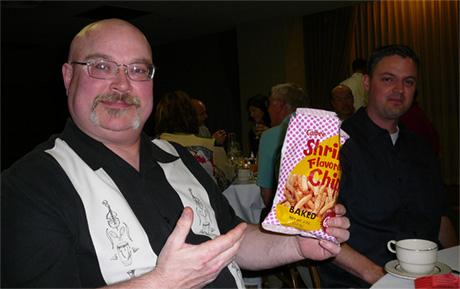 Dave Keene, from the Toronado, won a raffle at the dinner to support a local chef's organization. One of the items in his prize basket was "Shrimp flavored Chips."
James Costa, from E.J. Phair Brewing, offers some to his wife, Caroline. Wisely, she declined. The smell alone was enough to produce a gag reflex.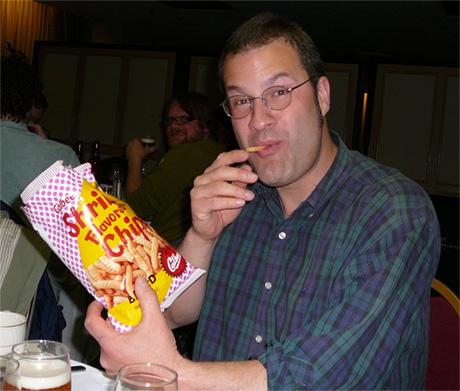 Rob Tod, on the other hand, was brave enough to actually eat them.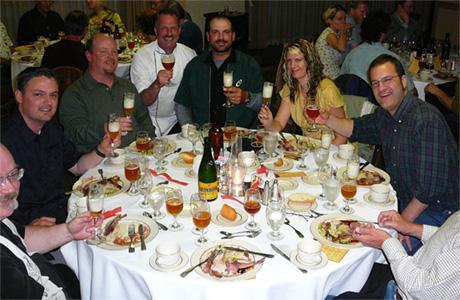 Chef Bruce stopped by our table. From left, Dave Keene, Vinnie Cilurzo (from Russian River), Arne Johnson (from Marin Brewing), James Costa and his wife Caroline, and Rob Tod.
Chef Bruce also brought us a special bottle of Malheur Brut Reserve, Michael Jackson Commemorative Selection 2006. Yum.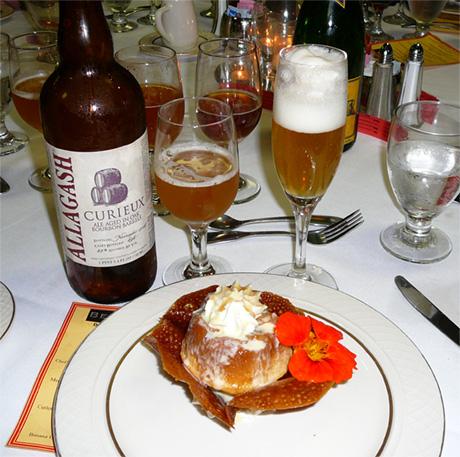 The Malheur (at right) also worked well with the dessert, Banana Upside Down Cake with Butterscotch Mascarpone, though the official pairing, Allagash Curieux, was inspired. Curieux is a tripel aged in Jim Beam barrels.
Chef Bruce and Rob Tod, who respectively provided the food and beer for our dinner.
Malin Palssoa and Eric Schiff (from San Francisco Brewing), fans of the Bulletin at the dinner. At least I think that's their names, I had trouble reading my own handwriting the next day.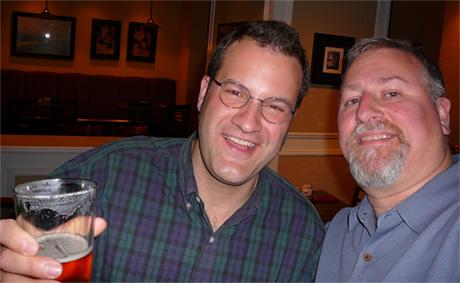 Enjoying some Blind Pig IPA at the hotel bar after the dinner, Rob Tod and me.