Friday's ad is for "Rheingold Beer," from 1958. This ad was made for the Rheingold Brewery, which was founded by the Liebmann family in 1883 in New York, New York. At its peak, it sold 35% of all the beer in New York state. In 1963, the family sold the brewery and in was shut down in 1976. In 1940, Philip Liebmann, great-grandson of the founder, Samuel Liebmann, started the "Miss Rheingold" pageant as the centerpiece of its marketing campaign. Beer drinkers voted each year on the young lady who would be featured as Miss Rheingold in advertisements. In the 1940s and 1950s in New York, "the selection of Miss Rheingold was as highly anticipated as the race for the White House." The winning model was then featured in at least twelve monthly advertisements for the brewery, beginning in 1940 and ending in 1965. Beginning in 1941, the selection of next year's Miss Rheingold was instituted and became wildly popular in the New York Area. In this newspaper item, from September 1958, we see Miss Rheingold 1958, Madelyn Darrow, along with the six finalists for Miss Rheingold 1959 on the airport tarmac about to board a KLM flight to Europe to attend the International Food and Beverage Exposition in Munich, Germany, followed by a visit to the 1958 Brussels World's Fair. Waving in front of the plane, from left to right are Madelyn Darrow, Miss Rheingold 1948, Emily Banks, Sondra Goss, Robbin Bain, Penny Peterson, Audrey Garcia and Gretchen Foster.
And below is a slightly lighter version of the ad that allows you to see more detail.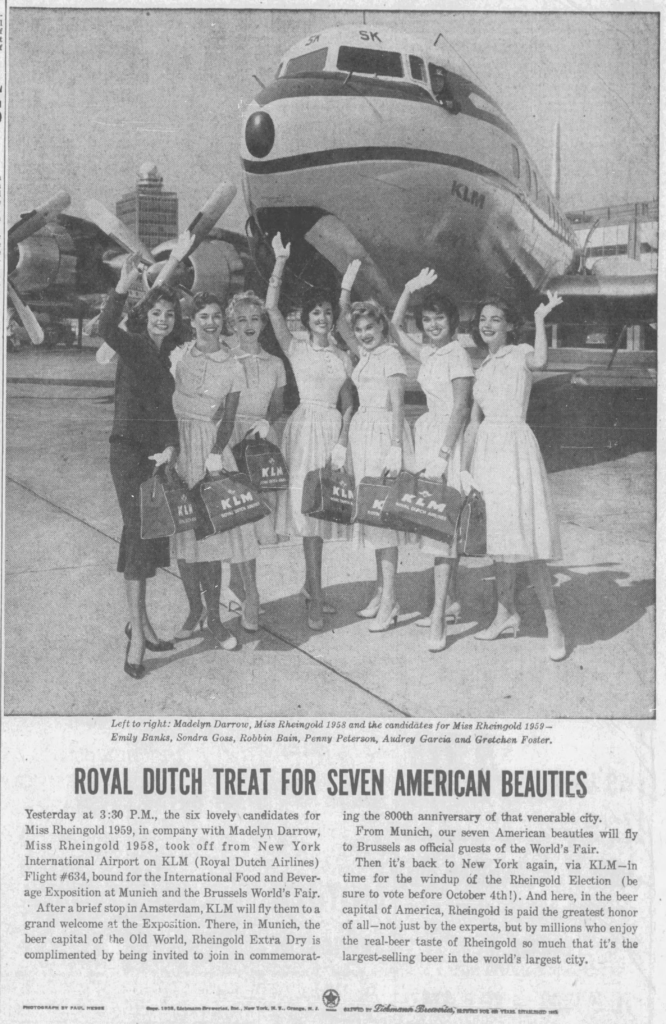 Another interesting thing that happened is that at the International Food and Beverage Exposition in Munich, apparently Rheingold won a gold medal for their beer, because their neck label after the event included the following
And here's a close up of the neck label.