Autumn brings many changes, even here in California where the change of seasons is not as dramatic as in more temperate areas. But regardless of specific climate, throughout the country, it's harvest time. Only the exact date to begin picking changes. For Moonlight Brewing and Russian River's combined hop harvest, that date was Monday.
A little more then ten years ago, small breweries began making "fresh hop beers," which are usually ales made with freshly picked hops thrown into the boil as soon as possible after they were picked from the vine, often within a few hours of being harvested. Usually, many times more fresh hops are used than in ordinary brews and aficionados claim that fresh hopping enhances aromas. It may be merely a perceptional advantage, but to my mind — and senses — they definitely do have great aromas and flavors.
These beers are also known by other names, including "wet hop beers" and "harvest ales." Sierra Nevada Brewing's Harvest Ale was undoubtedly one of the first and today is sold in every state. But most remain small batches, generally limited by the fresh hops themselves, as well as other factors. Over the years, an increasing number of breweries are now making fresh hop beers, including Alpine Brewing of San Diego (WHAle, Wet Hopped Ale), Deschutes Brewery of Bend, Oregon (Hop Trip Harvest Ale), Dogfish Head of Delaware (Fed-Extra Mid), East End Brewing of Pittsburgh (Big Hop Harvest Ale), Great Divide Brewing of Denver (Maverick Fresh Hop Pale Ale), Left Hand Brewing of Longmont, Colorado (Warrior IPA), Rogue Ales of Newport, Oregon (Hop Heaven), and Victory Brewing of Downingtown, Pennsylvania (Harvest Pilsner) to name only a few.
On Monday, I helped out with the hop harvest of cascade, chinook and red vine hops grown on the property at Moonlight Brewing and shared with Russian River Brewing for the two breweries' fresh hop beers. Moonlight's is called Homegrown (in some places) and Russian River's is know as HopTime. It was a lot fun — though today I'm still a little sore and scratched up — and took about five or six hours to complete the harvest. Then both brewers retired to their respective breweries to begin the process of making their fresh hop ales. The rest of us enjoyed a yummy lunch at Russian River provided by Natalie Cilurzo, the hop queen of Russian River Brewing.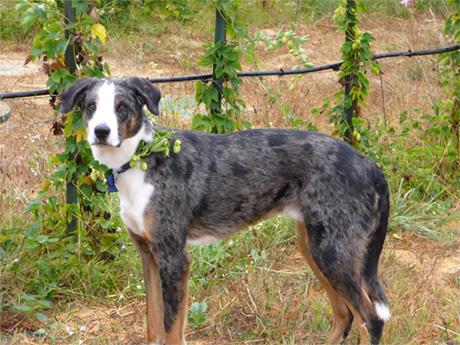 Barley, the dog, adorned with fresh hops plays in the hopyard.
The Moonlight/Russian River hopyard.
Brewers Brian Hunt, assistant brewer Travis, and Vinnie Cilurzo in their hopyard.
Brian Hunt on a ladder cutting down hopvines from ten-foot wires strung across the yard.
Then the bottoms are cut so the vines can be moved for picking.
The volunteer hop pickers in front of Moonlight's brewery.
Everybody works in a circle picking the hop cones from the vine and collecting them in buckets.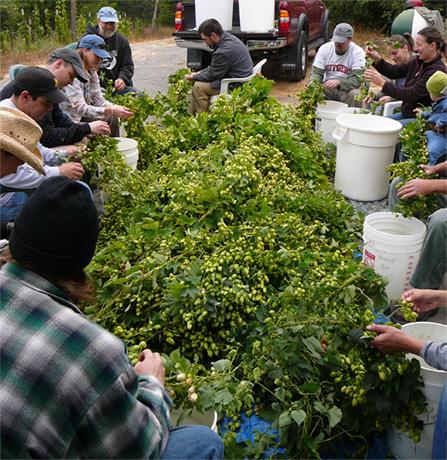 A mound of hopvines ready to be picked. Cascade and Chinook hops are mixed in the pile.
Hops on the vine.
Stored in a bucket after picking.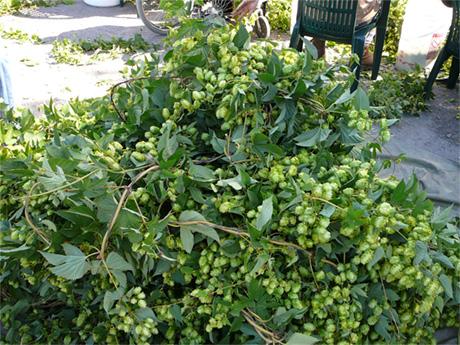 A third hop is kept separate. This is Red Vine, a type of cluster hop.
Vinnie Cilurzo picking Red Vine hops.

Last Friday, the Wall Street Journal did a feature article about Fresh Hop Beers. If you don't have a subscription, the Pittsburgh Post-Gazette syndicated the story and "To toast a new crop, brewers roll out 'wet hop' beer" is available online. I've been complaining lately that only smaller and regional traditional media is covering beer so it's nice to see a big player step up. Though according to insiders, the story took many weeks to get approval and the author had to advocate persistently to finally get it published.