Saturday's ad is for "Rheingold Beer," from 1953. This ad was made for the Rheingold Brewery, which was founded by the Liebmann family in 1883 in New York, New York. At its peak, it sold 35% of all the beer in New York state. In 1963, the family sold the brewery and in was shut down in 1976. In 1940, Philip Liebmann, great-grandson of the founder, Samuel Liebmann, started the "Miss Rheingold" pageant as the centerpiece of its marketing campaign. Beer drinkers voted each year on the young lady who would be featured as Miss Rheingold in advertisements. In the 1940s and 1950s in New York, "the selection of Miss Rheingold was as highly anticipated as the race for the White House." The winning model was then featured in at least twelve monthly advertisements for the brewery, beginning in 1940 and ending in 1965. Beginning in 1941, the selection of next year's Miss Rheingold was instituted and became wildly popular in the New York Area. This ad announces that "Adrienne Garrett Elected Miss Rheingold 1954." Garrett was born in California and initially lived in Santa Monica before her family moved to Westchester County, New York, when she was two, where she was raised and graduated from Westchester High School. After graduation, she spent three years as a secretary for a television network — ABC — before embarking on a modeling career, doing primarily commercial product work. Newspaper accounts claim she's either 22 or 24-years-old, depending on the article, and I've been unable to confirm anything more precise. She appeared to be married with a one-year-old son, so Garrett may not be her maiden name, making it harder to find her biographical information. There's plenty that include her measurements, shoe and dress size, and even hobbies (She loved to sew, swim and ice-skate). Her mother was a California model, and she was apparently being screen-tested when she became pregnant, which derailed her plans to start an acting career. But it seems to have all worked out in the end. Garrett was the 15th person named as Miss Rheingold, and as the contest's popularity continued to grow it became new in its own right, garnering publicity and fame you couldn't buy. As a result, once the winner was announced numerous newspaper items were published about the contest and the "The Winnah," such as this item entitled just that. What follows is a selection of articles written, mostly in December, announcing Ms. Garrett's victory and giving biographical details about her.
Here is one from The Morning Call, published December 11, 1953: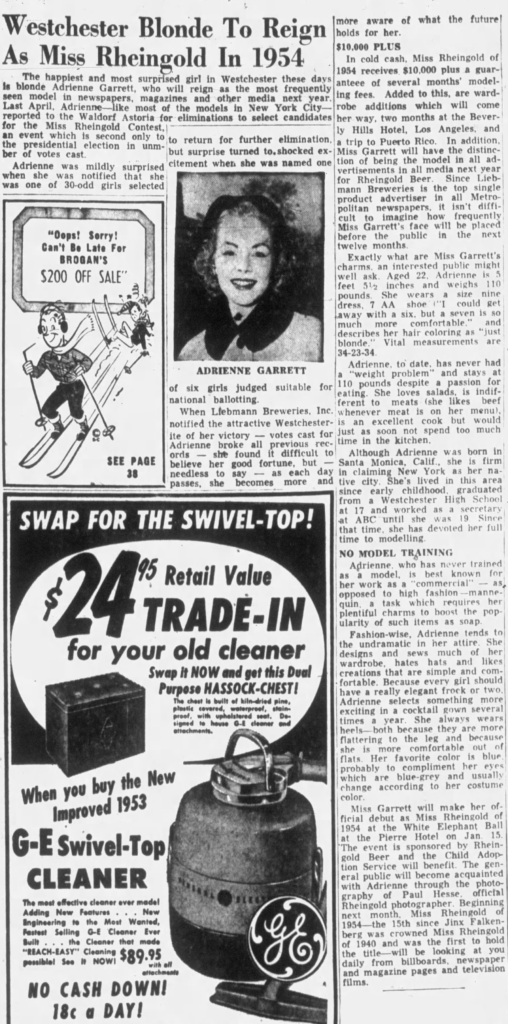 And this was is from the same day, but in the Brooklyn Daily Eagle:

Adrienne Garrett was born in California and originally lived in Santa Monica, so this is from a California newspaper. Although it also mentions that despite Ms. Garrett now calling New York her home, the contest is also open to women from California since Rheingold beer was just introduced into the state.

And this short blurb is from December 12, 1953 in the Asbury Park Press.
In this final item, Adrienne Garrett is introduced to California beer industry people at the Arrowhead Springs Hotel in Southern California.