Last night after the Anchor event, a dozen or so of us went over to Dave McLean's new bar, The Alembic, on upper Haight. The address is 1725 Haight Street and their phone number is 415.666.0822. Dave also owns the Magnolia brewpub a few blocks away. It's a very small place but also cozy and even a little homey. The have a full bar, all of the Magnolia beers and several guest taps from local breweries. The Alembic's chef, Eddie Blyden, started bringing us out dishes to sample. What terrific food! Good beer, good food, good spirits, good friends and great atmosphere! I look forward to spending more time at the Alembic.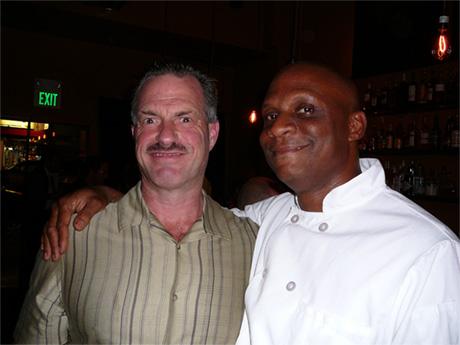 Cathedral Hill Hotel beer chef Bruce Paton and Alembic chef Eddie Blyden, arguably two the best beer chef's anywhere.
Me with the delicious lemongrass fries, which are done in a Belgian frittes style. My other favorite of the evening were the lamb sliders. Yum!
From the Chronicle:
Small plates from chef Eddie Blyden (of 21st Amendment and now-closed Sneaky Tiki) include charred Monterey Bay squid, and mushroom and autumn squash cassoulet, which vie for a customer's attention with bar snacks like sage roasted nuts, jerk chicken wings with yogurt sauce, and lemongrass french fries.

The cocktail menu features stripped-down classics like a bourbon old-fashioned and an "old style" Manhattan, and the bar spotlights many Northern California small-craft artisan liquors, a handful of sakes and a rotating selection of local microbrews.

Even the sturdy bar is locally inspired — it's made from old Kezar stadium bleachers.