Sunday was the 19th Anniversary Party for the Celebrator Beer News. It was held at Trumer Brauerei in Berkeley, California from 4 to 8 p.m. There was a really good turnout for the party and a lot of friends and colleagues were there, which was great fun. Also, there was some terrific beer from twenty breweries, some terrific food from brewer Jeremy Sowers Emergency BBQ and three bands. This is just a few of the photos I took at the party, for more pictures, visit the photo gallery.
Greg Koch, co-owner of Stone Brewing, and Greg's girlfriend Susan, presented Celebrator publisher Tom Dalldorf with a montage poster of Stone Brewing moments in the Celebrator.
Dan Del Grande, from Bison Brewing, brewed the new Reunion Beer, a charity for Multiple Myeloma (a type of bone cancer) by former Pete's Wicked Ale employees Pete Slosberg, Virginia MacLean and Alan Shapiro.
A perky Kathryn with Judy Ashowrth and Melissa Myers, from Drake's Brewing.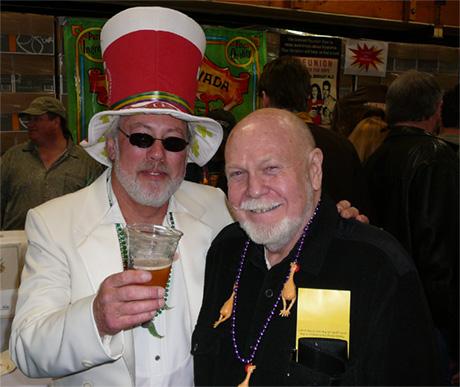 Party host Tom Dalldorf with Portland beer writer Fred Eckhardt.
For many more photos from the party, visit the photo gallery.