Bruce Paton, the Beer Chef's, 3rd annual Beer & Chocolate Dinner paired ten Trappist beers from six out of the seven monastery breweries authorized to call themselves Trappists by the International Trappist Association (ITA). In addition to hors d'oeuvres accented with chocolate (paired with Orval and Chimay Cinq Cents), there were four courses. The first course was a delicious lobster bisque infused with milk chocolate and crème fraiche and paired with Westmalle Dubbel and Chimay Premiere. When they started bringing the bowls of bisque into the dining room, the air was thick with the aroma of lobster, but when you tasted it the chocolate really came through as the dominant flavor.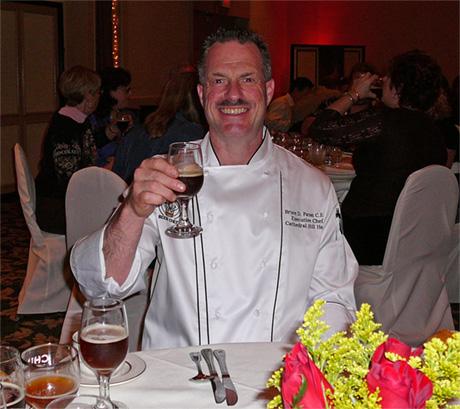 The table I sat at was Chef Bruce's table, too, so we got some great insight on how he chose the pairings, found the ingredients and prepared the dishes. Next up was breast of squab with sweet potato chocolate flan and natural jus paired with Achel and Westmalle Tripel.
The third course was Angus beef short ribs braised in Chimay with parsnip puree dark chocolate port wine reduction served with Chimay Grand Reserve and Rochefort 8. The beef was so tender you didn't need your knife. Also, the parsnips were all but completely overwhelmed by the chocolate flavors, which complemented the meat perfectly.
Guests at the dinner, from left. Cornelia Corey and Ray McCoy (Beer Drinkers of the Year 2001 and 2003, respectively), Bryan Harrell (the Celebrator's man in Tokyo) and Portland beer writer Fred Eckhardt (who pioneered the beer and chocolate dinner way back in 1988)
The dessert course billed was an "Exploration of Chocolate Delights" which in this case meant three very different chocoholic desserts. There was a lemony chocolate cheesecake, a chocolate mousse with white chocolate pieces in it and a strawberry wearing a tasty white chocolate tuxedo. These were paired with Rochefort 10 and De Koningshoeven Quadrupel. The De Koningshoeven is only one of the seven Trappist breweries in the Netherlands (the rest are all in Belgium) though it is better known by its European name, La Trappe. The only Trappist beer not represented was, of course, Westvleteren, which no longer distributes its beer outside the monastery.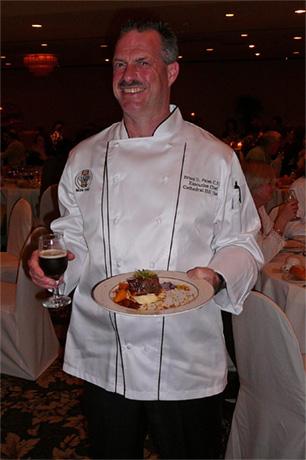 Beer Chef Bruce Paton with his two great passions, food and beer. Thanks Bruce for another terrific dinner. Look for a Valley Brewing dinner at the end of April and a Allagash beer dinner in late May.