Friday's ad is for "Rheingold Beer," from 1955. This ad was made for the Rheingold Brewery, which was founded by the Liebmann family in 1883 in New York, New York. At its peak, it sold 35% of all the beer in New York state. In 1963, the family sold the brewery and in was shut down in 1976. In 1940, Philip Liebmann, great-grandson of the founder, Samuel Liebmann, started the "Miss Rheingold" pageant as the centerpiece of its marketing campaign. Beer drinkers voted each year on the young lady who would be featured as Miss Rheingold in advertisements. In the 1940s and 1950s in New York, "the selection of Miss Rheingold was as highly anticipated as the race for the White House." The winning model was then featured in at least twelve monthly advertisements for the brewery, beginning in 1940 and ending in 1965. Beginning in 1941, the selection of next year's Miss Rheingold was instituted and became wildly popular in the New York Area. In this two ad, it's announcing that "Hillie Merritt Elected Miss Rheingold 1956!" Hillie Merritt was elected as Miss Rheingold 1955. Not to take anything away from the other Miss Rheingolds, but her story is pretty amazing. She was born Hildegarde Ercklentz in Hamburg, Germany in 1934 but she moved to New York when her father was given a position there with the German bank he worked for. In 1941, they had to flee the United States and lived for a time in Japan, before finally making it back to Hamburg after the war and then by 1950 was living once again in New York City. The story of that journey was written by her and published as "Journey Interrupted" in 2016. By 1955, she was Mrs. Hillie Merritt (although it may actually have been Merrill), with a one-year old son, and decided on a lark to enter the contest. Soon after the year she divorced and then married corporate executive David Mahoney, and they became a prominent couple in the NY social scene and in philanthropic circles. In 1990, they founded the Harvard Mahoney Neuroscience Institute, which Hildegarde Mahoney took charge of after her husband's death in 2000 and she's still running the charity today.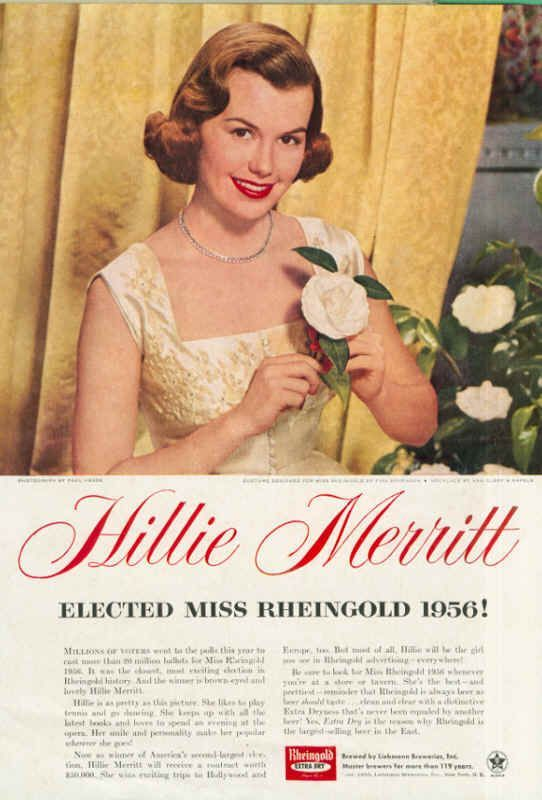 Here's a close-up of the portrait.
And below is a promotional framed portrait given to Rheingold distributors and retailers.