Today is the birthday of John F. Betz Jr. (September 1, 1856-April 8, 1910). He was born in Pennsylvania, the son of John F. Betz, who in 1867 bought what was the Robert Hare & J. Warren Porter Brewery when it opened in 1775, but was the William Gaul Brewery when Betz acquited it, but Betz changed it to the John F. Betz Brewery. When John Jr. joined his father in the business in 1880, they changed the name to the John F. Betz & Son Brewery. The brewery survived prohibition, but closed for good in 1939.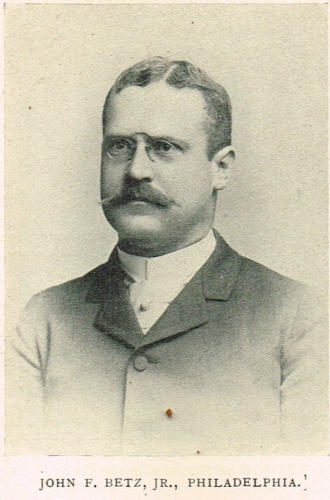 Here's his obituary from the American Brewers' Review:

The Betz brewery in Philadelphia.
This much longer account is from "Philadelphia and Popular Philadelphians," published in 1891. It's mostly about Junior's father, but he is mentioned in the course of the article:

The Philadelphia brewery.
I'm not sure if this was a newspaper advertisement or some very favorable coverage, but this was a page from The Times—Philadelphia on May 28, 1893. But in the right-hand corner is where I discovered the only image of John F. Betz Jr. that I could find.